OK. This is it. I promise that this will be the last time I write about 1980s bands for the foreseeable future. I know it's rough knowing a longwinded music nerd who thinks anybody cares about this stuff, but hey, in the end I think that I wrote these posts mostly for myself anyway, just because I enjoy listening to, and thinking and writing about music.
So, now for Part III… lets start with a couple of legendary bands I didn't mention in the last two posts…
The Pixies
After my last post, Wendi and I were discussing this list. We realized with a shock that, once again, I had left out yet
another
fantastic 1980s band,
The Pixies
… which is even more unforgivable considering that
Pixies
are one of my favorite bands of all time – not just the 1980s – as well as one of the most influential of the past 20 years.
This band predated the 1990s so-called "alternative rock" (I have always loathed that term!) movement by a few years, but
Pixies'
deep influence upon thousands of bands in the years since then belies their short lifespan – really only four years (1987 – 1991), four albums (
Surfer Rosa
,
Doolittle
,
Bossanova
, and
Trompe Le Monde
), plus a debut EP that was really their demo tape remastered for commercial release.
Singer Black Francis (who now goes by the handle Frank Black – get it?) was the major creative brain behind
Pixies
, though bassist Kim Deal also contributed, particularly to their first bona fide album, 1988's
Surfer Rosa
, which was produced by über-indie producer Steve Albini and sports his immediate and unpolished studio sound – the band in a room, playing their songs…
loudly
.
That album sounds fresh to this day --
Pixies
took the standard pop/rock band lineup of guitars/bass/drums and turned it upside down; their model for writing songs became known as "loud quiet loud" to reflect their unique fusion of pop with punk rock dynamics, which has been borrowed by countless bands since then. The formula: build the tension in melodic, subdued verses only to explode with unleashed energy during the choruses. Pixies songs have no flashy guitar leads, can go from melodic crooning to crazed screaming in a manner of seconds, and usually employ remarkably unusual, taut song structures that still manage to sound like pop songs… most of the time.
The first thing you notice is Frank Black's voice -- it's a crazed, unhinged yet surprisingly melodic thing that grabs your attention if it doesn't make you recoil in fright. Frank sounds wild and dangerous, which compliments his screwy lyrics, most of which have an internal "logic" of their own – sometimes he even sings in Spanish for no particular reason (he holds a college minor degree in Spanish).
The lyrics deal with things like old art movies (the immortal "Debaser"), sea monkeys ("Shrine Of The Sea Monkeys"), the planet Mars ("Bird Dream Of The Olympus Mons"), traveling through time and space with one's sweetheart ("Velouria", a song with extremely bizarre chord changes), sarcastic mockery of higher education ("U Mass", with a sneering refrain of "it's educational!!" after describing various college debaucheries), and the pleasures of driving one's car into the ocean ("Wave Of Mutilation"). They also covered a
Jesus And Mary Chain Song
, "Head On."
Sounds weird, I know… and
Pixies
were definitely weird – heck, they even had a song called "Is She Weird?" I don't really know what most of their songs were about, to tell you the truth, but I can tell you that all of them will smack you sweetly upside the head the way that great rock music is supposed to. They were yet another band with no bad albums. Their musical arrangements were as tight as the songs, never overplayed but musically compelling.
The tension between Black (who has since released a slew of excellent solo albums) and Deal (whose band the
Breeders
found quite a bit of commercial success in the 1990s) proved too much for the band, which split up in 1992. The irony is that, since they broke up, the
Pixies
have become more popular, more influential, and sold many more albums than when they were together.
This led to a reunion tour in 2004/2005, which Wendi and I were privileged to see down at Richie Center on the DU campus. It was a packed house, and I was amused to notice that Wendi and I were of approximately the same age group as the rest of the crowd. We are used to being older than most people at rock shows these days. I guess
Pixies
must be a Generation X thing.
Are you listening, you little whippersnappers?!??! We're cooler than you!
The Police
Everybody knows the
Police
, so I won't spend too much time on them. But it should be noted that, in addition to being one of the biggest pop bands of the 1980s, they were also one of the most interesting.
The Police
's unique blend of reggae, rock, jazz and pop influences set the template for the New Wave sound, still sounds original today, and has inspired countless, mostly inferior imitators.
Singer/bassist Sting, guitarist Andy Summers and drummer Stewart Copeland were all excellent musicians, and though their chops are apparent on all five proper
Police
albums, they went out of their way to keep things simple. There's hardly a guitar solo to be found in any of their songs.
From their first album,
Outlandos d'Amour
, the band clearly had reggae on the brain – they mixed reggae beats with punk attitude, plus fantastic songwriting courtesy of Sting. Much more than a cheesy pop songster, Sting's songs brimmed with clever wordplay, compelling storytelling, social consciousness and sarcastic attitude.
Copeland also happens to have one of the more recognizable drum sounds in rock music. The guy's beats and fills were both minimalist and unique, always throwing in a fill here a snare crack there, or a backbeat where you least expected it, never flashy, but jaw-droppingly proficient. Plus, he just smacks the skins so
hard
and precisely…. few rock drummers have ever equaled his creativity and talent.
The Police
's biggest hit was the deceptively tender ballad "Every Breath You Take," from their best selling album , 1983's
Synchronicity
, which if you listen closely to the lyrics not only never utilizes the word "love", but is in fact a dark tale of obsession and jealousy, set to a nearly perfect pop accompaniment.
Personally though, my favorite record is 1981's
Ghost In The Machine
. It has a dark and spacious sound throughout that compliments the introspective but energetic songs such as "Spirits In The Material World", "Invisible Sun" and the upbeat "Rehumanize Yourself". It also contains the ferocious masterpiece "Demolition Man" which manages to sound totally punk rock without actually being punk rock at all… this song in particular will prove to you that Copeland is one of the greatest rock drummers ever, and it even has cyberpunk horn chart stylings to give it lift.
You really can't go wrong with any of the
Police
's albums, or their songs for that matter – even though they are vastly overplayed on the radio to this day. Amazingly, for a band that broke up acrimoniously in 1984, they even reunited for a tour this year. Too rich for my blood – the cheapest tickets to the Denver show were over $100.00. It's hard to have much respect for gouging people like that. But that's OK I guess… I can still listen to
Ghost In The Machine
for free.
Squeeze
Yet another British band.... I'm starting to think that the early 1980s could almost be considered the 2nd British Invasion. Another preeminent band of so-called the New Wave,
Squeeze
's three massive hits, "Tempted," "Pulling Mussels From A Shell" and "Coffee In Bed", were soulful exhibitions of superb songwriting, with a focus on the complexities of relationships. "Coffee In Bed," in particular, is one of the bitterest breakup songs I know of, inspired by a coffee mug stain on an old notebook. And all three of these songs enjoy heavy rotation on classic rock radio to this day.
Indeed,
Squeeze
in the early 1980s was a worthy successor to the Beatles. Their soul-inflected melodies and clever, infectious songwriting gave
Squeeze
quite a bit of success backing the day. But they were much more than the sum of their hits – as far as I know, there's not a bad song on any of their albums.
Talking Heads
Among the greatest – and most artistically complex – of the New Wave bands,
Talking Heads
enjoyed more success than almost any other band of the 1980s except for perhaps the Police.
Talking Heads
was essentially David Byrne's vehicle. This band is too well known for me to comment extensively here… I imagine that every American has a favorite
Talking Heads
song at this point. But no mention of great 1980s rock music would be complete without
Talking Heads
.
Listen to the lyrics of now-overplayed rock classics like "Once In A Lifetime", "Burning Down The House," "And She Was," "Life During Wartime," "Nothing But Flowers" or their first hit, "Psycho Killer." Byrne's sardonic humor, absurdity and storytelling ability shine through every one. One of Wendi's favorite TH songs, "Up All Night", was written by Byrne about babysitting his infant nephew. "Once In A Lifetime" is about a midlife crisis/breakdown. And of course, the music was a groovy mix of rock, pop and world rhythms that the band exploited to great effect on albums such as
Fear Of Music
and
Remain In Light
.
Paradoxically elliptical
and
immediate,
Talking Heads
songs always made you think. And I can't think of one that I don't mind hearing to this day, even though the radio plays them to death.
Talking Heads
is another band that really doesn't have any weak songs or filler material, except for maybe their last album
Naked
… which still contains several bright moments.
This band will probably never play together again, because their breakup was particularly bitter. Byrne later disavowed all the other members' contributions, even though keyboardist Jerry Harrison had made his own mark with Johnathan Richman the proto-punk/indie band Modern Lovers in the 1970s, and bassist Tina Weymouth with drummer Chris Frantz had several hits as Tom Tom Club, including the quirky hit "Genius Of Love "
Lest you think that Byrne was an egomaniac, Harrison, Weymouth and Frantz released a terrible album in 1996, called
No Talking, Just Head
, that proved the band was nothing without Byrne's talents. Oh well… as John Lennon once said of his own band, which likewise disbanded in acrimony and infighting, "you can always go back and listen to the records, even if the band isn't around anymore." Amen to that.
That's a paraphrase… you get the point.
Tears For Fears
Another band that probably doesn't need much explanation, but they need a mention too. The hits from their 1985 album
Songs From The Big Chair
are almost synonymous with the decade. Anybody reading this who hasn't heard "Shout", "Everybody Wants To Rule The World," "Head Over Heels," or their later hit "Seeds Of Love" from the album of the same name, either wasn't born at the time, or needs to go back and determine why exactly they apparently were hiding in a deep, dark cave in the deserts of Mongolia.
But this band was pretty deep – I believe their name comes from an interest in "primal scream" therapy. Their songs are personal, well-written and cathartic, and hold up surprisingly well after twenty years.
The TheThe The
was the brainchild of British songwriter Matt Johnson, and his dark, introspective songs were melodic, disarmingly catchy, and, as in the case with so many great British bands of the era much more popular overseas than in the U.S. I'm not sure why this band isn't better remembered today, as
The The
's brooding songs have an intensity and staying power moreso than most bands of the era.
Nevertheless,
The The
made a lasting mark on the American and British "alternative" scenes. Johnson fused electronic drums and synths with guitars and acoustic instruments in a manner that sounded natural and effortless, which is probably a big reason
The The
's music doesn't sound dated now, even though the records definitely have an 80's sound. They recorded about 7 or 8 albums over 12 years or so, of which the best are 1983's
Soul Mining
, 1989's
Mind Bomb
, and 1993's
Dusk
, the last of which mostly abandoned the synths in favor of a more organic, bluesy sound.
As far as I know, there's not a bad song on any of them. "This Is The Day" (from
Soul Mining
had the good fortune to be featured in a car commercial some years back… which was an odd choice because the song is actually more about despair. The lyrics, if taken at face value, might seem optimistic – if Johnson didn't sing them so desparately…
"Well you didn't wake up this morning / 'cause you didn't go to bed / you were watching the whites of your eyes turn red / the calendar on your wall / is ticking the days off / you've been reading some old letters / you smile and think / how much you've changed / all the money in the world / couldn't buy back those days / you paw back your hands / and the sun burns into your eyes / you watch a plane flying / across a clear blue sky / this is the day your life will surely change / this is the day when things fall into place"
Catch the darkness in there? It sounds like a man who's watching his hopes slowly crushed in an orgy of self-loathing, sung desperately… but set to a very nice melody, of course. I guess that's why somebody thought it could sell cars. Matt Johnson's lyrics are personal but they don't hit you over the head – they are open to interpretation, as the best lyrics usually are.
Another melancholy, but paradoxically hopeful song is "Uncertain Smile", from the same album, which is to me sounds like a love letter from one separated, scarred lover to another… it's a song that just, well,
sounds
like new love and radiates a kind of heartbreaking, guarded optimism despite the vague lyrics… in this song the mood of the song and the vague lyrics compliment each other. Does that make sense? I would quote the lyrics here, but I like this song so much that I plan to record my own version of it. So there.
U2
What can one say about
U2
that hasn't been said before?
They were the superstars of the 1980s, and one of the few bands whose popularity has barely diminished since. In my opinion their best era was their first five albums, of which the first,
Boy
, and the fifth,
The Joshua Tree
are the best – nice bookends to their most creative and passionate work.
1980's
Boy
is an often-overlooked masterpiece of early, punky New-Wave stylings, every song bursting with energy and passion. The highlights are the heart-on-sleeve, soaring "I Will Follow," the driving "Into The Heart", and my personal favorite, the full-on guitar rave-up "Electric Co." – though my favorite version of that song can be found on the 1983 live album
Under A Blood Red Sky
, which incidentally was recorded here in Colorado, at Red Rocks Amphitheater, just outside Denver, in Morrison.
However, my favorite
U2
album (and I think there is a consensus that it is their best), is 1987's
The Joshua Tree
. In addition to spawning several massive radio hits like "With Or Without You," "Where The Streets Have No Name," and "I Still Haven't Found What I'm Looking For," there are also great songs like "Red Hill Mining Town" (about the economic/social death of a small Welsh mining town), "Bullet The Blue Sky" (about the Vietnam War… I think), "Mothers Of The Disappeared" (about the thousands of "disappeared" victims of the Pinochet dictatorship in 1970s Chile), "Running To Stand Still" (about a heroin addict), and the weirdest
U2
song of all time, "Exit"… ok, I have no idea what that tune is about, but it's full of tension and darker than almost anything they've ever done, before or since.
U2
's previous album rivals
The Joshua Tree
in excellence –
The Unforgettable Fire
is Wendi's favorite
U2
album, and includes their tribute to Martin Luther King "Pride (In The Name Of Love)" (which was a massively popular single), and expansive and heartfelt classics like the twisted "Wire" and desperate love song "Bad". The album was titled after a book of the same name,
The Unforgettable Fire
referring to the sight of the first atomic bomb detonating over Hiroshima in 1945.
Let's just say
U2
never knew of A Weighty Topic Of Great Social And Political Importance that they didn't attempt to tackle in some way. Eventually, U2's weightiness began to sag. On the successor to
The Joshua Tree
,
Rattle And Hum
, their pretentious righteousness began to bore a lot of people.
Seeking higher ground, they reinvented themselves in 1991 with
Achtung, Baby
an album of songs that dripped with sarcasm and winked at their reputation as earnest prophets of righteous passion. On songs like "The Real Thing" (a sarcastic ode to slick advertising campaigns), they managed an ironic grin while staying musically potent (or trying to, anyway). But this new, self conscious
U2
always seemed a bit too calculated to me… though they cranked out records throughout the 1990s, they steadily strayed from what once made them great. Irony and sarcasm can be powerful, but when combined with a rampaging, narcissistic personality like Bono it can get old – really fast.
By the 21st century they apparently realized that their era of jeering at commercialism – while reaping its benefits at the same time – had become transparent and ugly. Once again they attempted to change their attitude on the albums
All That You Can't Leave Behind
and
How To Dismantle An Atomic Bomb
, returning to the earnestness that had once been their trademark on songs like
ATYCLB
's "It's A Beautiful Day".
I'm glad that they've matured, and given up the sneering commercialism… their release party for the album
Pop
from 1997 was held in K-Mart! That's a bit too ironic, even for my taste… heck, it borders on hypocritical. But its hard to take seriously anymore a rich rock star like Bono, who these days campaigns for impoverished countries while setting up shelters to avoid taxes in his native Ireland. Plus, he apparently thinks he's Jesus. U2's glory days have long passed, but their best era – the 1980s – will always be near my heart.
"Weird Al" Yankovic
Rather than spend a thousand or more keystrokes explaining to you the genius of Weird Al, I ask you to see for yourself, if you don't know already. He is known for his hilarious parodies of pop songs, of which there were many. But he could also be very funny with his own tunes. Ladies and gentlemen, I give you
"Dare To Be Stupid"
It's a loose parody of
Devo
, but stands proudly on its own. Wallow in its greatness.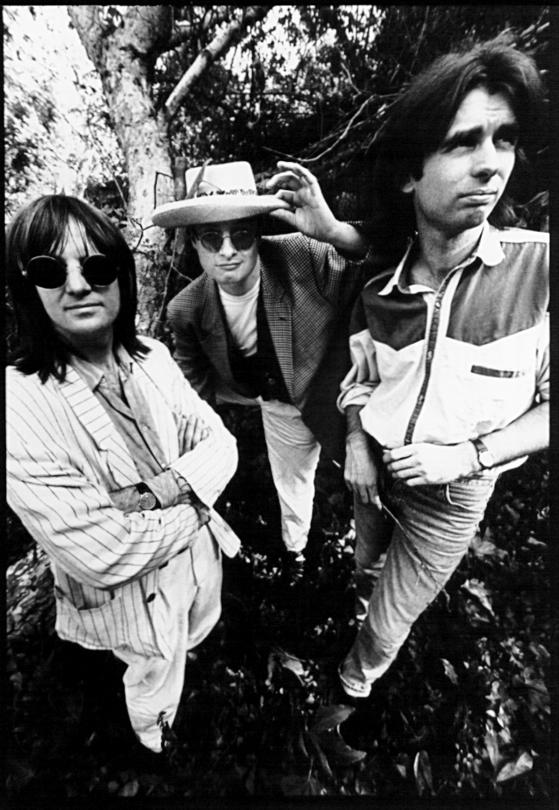 XTC
Where does one begin with
XTC
? They were one of those bands that never really went away… their music is that timeless. They are remembered as purveyors of intelligent, masterfully written pop songs, yet they never achieved massive success in the USA – though they have always had a devoted cult following.
There are a few reasons for this lack of mainstream success, none of them convincing. In a perfect world XTC would've been showered with as much or more praise as the Beatles for their mastery of songcraft. Every single one of XTC albums is worth hearing, and most of them are classics from beginning to end – the best are 1979's
Drums And Wires
, 1986's
Skylarking
, and 1992's
Nonsuch
-- but interspersed with these there are a half-dozen others that are all excellent listens..
Their first two albums harped on a sort-of proto-New Wave, herky-jerkyness (their first record is great, but Partridge's yelping can get a little tiring, lost amongst the manic music. Their 2nd album
Go 2
has one of the best and most bitingly sarcastic album covers ever, composed entirely of text, as well as containing the immortal song "I Am The Audience"), and though they are both quite good, the band really hit it s stride with
Drums And Wires
. Not really a pop album in the usual sense of XTC,
Drums And Wires
is nonetheless a great example of how pop music mutations can achieve new heights of inventiveness.
XTC
hit it big with the song "Making Plans For Nigel" from that album – a thudding, sarcastic song about an upper-class boy whose life is planned to the second by his overbearing parents.
That they never achived superstardom can be chalked up to several factors. The band never played live after 1982, due to panic attacks suffered by singer Andy Partridge onstage because of a murderous touring schedule, into which they were forced for several years by their record label. Though Partridge and bassist Colin Moulding were always the heart of the band, in the 1990s, the band was forced into semi-retirement by departures of other members and a dispute with their record label (a different one) which prevented them from releasing any music at all for more than seven years. And really in the end, the rather dumpy Partridge and bandmates didn't really look like rock stars anyway, which is a mortal blow to any hopes of stratospheric sales in the
MTV
age.
Despite all this, their records are gems, and there are many of them.
Skylarking
alone rivals the Beatles' best work, and even trumps it a bit, being more topical and jaded. For instance, the working-class anthem "Earn Enough For Us" tells the story of a poor young couple on the edge: "I can take humiliation / and hurtful comments from the boss / I'm just praying by the weekend / I can earn enough for us". It's not a whiny song, but its definitely cathartic to hear for anybody whose ever lived from paycheck to paycheck with little idea of how to plan beyond the next one. "That's Really Super, Supergirl" is a bitter relationship song, "Ballet For A Rainy Day" is a gorgeous exercise of melody and impressionistic poetry, and "Dear God" became a surprise hit in America – in fact their only real hit here, I think.
Clever lyrics and topics abound in XTC's music.
Drums And Wires
is an earlier album with an almost punk-rock edge to it that helped set the template for the New Wave sound – but holds up after 27 years on its own. Other 1980s albums like
Black Sea
tackle topics like militarism ("Generals And Majors"), thuggery ("No Thugs In Our House"), and
English Settlement
's rollicking, sarcastic "Respectable Street" gives a thorough whipping to classism by describing a suburban couple who can't believe what's going on their street.
XTC's instrumental prowess should not be taken lightly – they were among the most inventive of pop groups, using unusual chord changes, melodies and instrumentation on songs like
Skylarking
's "Another Satellite", at other times going for utter simplicity as on the later song "Stupidly Happy" (from 2000's
Wasp Star
) which consists almost entirely of a single chord. Partridge is an excellent guitar player – listen to the finger-picked chord changes to "Knights In Shining Karma", from 1999's
Apple Venus
to see what I mean.
These days, XTC is pretty much done for… Partridge and Moulding are nearing retirement and are pretty sick of each other. Who wouldn't be, after 25 or 30 years of making music together? But what a legacy!
Ok, I proclaim this list to be at an end. But there are literally dozens of other bands & artists from the 1980s that deserve to be mentioned, like
The Smiths, Jane's Addiction, Prince, Lords Of The New Church, 45 Grave, The Clash, Simple Minds, Cocteau Twins, The Knack, Dead Can Dance, They Might Be Giants, The Alarm, Missing Persons, Nina Hagen, Kate Bush, The Cramps, The Cult, Men Without Hats, The Teardrop Explodes, Bauhaus, The Fixx, Dire Straits, Peter Gabriel, Peter Murphy's solo work, Genesis, Yaz, Pigface, Blondie, Cabaret Voltaire, Throbbing Gristle, Beastie Boys, Red Hot Chili Peppers
…. but I have to stop somewhere unless I'm going to write an encyclopedia.
Sheesh, maybe I already have!
If y'all are really, really nice to me, and if you ask in advance, I may have a compilation CD of some of these bands to give out next time I see you. This stuff is just too good to ignore or forget.