Wow... I had originally planned this thread to only include 8 or 10 great bands of the 1980s, but it quickly spiraled out of control. Not because I am particularly opinionated or loquacious (who, moi?), but because the more I thought about the subject, the more great bands came to mind.
So, here is part II... please don't take my word for any of this. Check these bands out and see if you agree in the end... the 1980s were not at all a fallow period for rock music. First, a
mea culpa
& update to my last post, a band I should not have neglected in the way I did...
Devo
I am embarrassed and ashamed that in Part I, I did not include
Devo
, one of the greatest bands of the late 70s/ early 80s. My only excuse is that the hot weather of late made my brain short-circuit – and that's not a very good excuse, because Devo was one of the defining bands of the era, as well as one of my favorites.
Devo
's best, and first, album
Q: Are We Not Men? A: We Are Devo
was actually released in 1978, so maybe technically they aren't a 1980s band. But their big hits "Whip It" and "Freedom Of Choice" came with the release of the album
Freedom Of Choice
in 1980. It's hard to think of another band that so perfectly captured the 1980s synthesizer sound, so I feel duty-bound to include them on this list.
Though
Devo
scored quite a few pop hits in their time, they were so far ahead of the era that you get the feeling that most people who bought their records didn't understand what their songs were really saying. The band's name came from leader Mark Mothersbaugh's pet theory that the human race is not evolving, but "de-evolving" backwards as a result of the pressures of technology, consumerism and apathy. It's hard to think of a more cynical and sarcastic band of the time than
Devo
. They used synthesizers and electronics to express a robotic, mechanical and frankly depressing vision of society as a homogenous mass of consumers with few individual thoughts among them.
Their videos reflected this too; my favorite video (as well as one of their best songs) is
"It's A Beautiful World"
. In case you didn't guess, Mark Mothersbaugh really thinks the world is anything but beautiful. The video makes this quite clear – and it's a great example of early music video editing using stock images for ironic effect.
Devo
had a unique image too: contrary to the usual image of rock bands as long-haired freaks, the guys of
Devo
looked like fascists out of a George Orwell novel. This was of course meant to be ironic, as Devo was an intellectual, subversive band whose true beliefs couldn't be further from fascist ones. But the image stuck.
Depressing? Sure. But their music was groovy, if somewhat mechanical by design… particularly as the years wore on. The title track to
Devo's
third album,
Freedom Of Choice
, is a groovy denunciation of mindless consumerism and insulting marketing techniques: "In ancient Rome/There was a poem/About a dog/Who found two bones/He licked the one/And picked the other/He went in circles until he dropped dead/Freedom of choice/Is what you got/ Freedom from choice/ Is what you want"
Devo
's synth-pop surface belied its subversive undercurrent.
Devo
later went downhill, focusing more and more on synthesizers until they eventually sounded like every other generic synth-pop group of the time. But even pure synth albums like
Oh No, It's Devo!
had great songs ridiculing mindless consumer behavior, like "That's Good" and the sinister "Peek-A-Boo" (chorus: I can see you / I know what you do / Cuz' I do it too / HA HA HA HA!!!).
But
Devo
's debut album is their most guitar-oriented and still my favorite. "Jocko Homo" could serve as
Devo
's manifesto, and a spazzed, polyrhythmic and thoroughly reworked version of the Rolling Stones' "Satisfaction" still gets the most play of any
Devo
song on rock radio to this day. It's still worth a listen to me, because I have never been able to figure out where the 1-count of the beat on "Satisfaction" comes in. Try it sometime – you'll see what I mean.
Freedom Of Choice
is only slightly less good, meaning… it's pretty dang fantastic by any standard, herky-jerky electro pop music with a bite. Tight!
The Minutemen
No relation to the modern-day anti-illegal-immigrant militia! Another prime example of a first-wave punk rock band that could
really
play their instruments, the
Minutemen
lived up to their name – they specialized in short songs, most of which hovered somewhere between a minute or two in length But their music was anything but slight. They were probably the most startlingly original and diverse of any punk band before or since. And as their name also might imply, they were among the most political of American punk bands – just behind the Dead Kennedys though not nearly as sarcastic.
Their early albums hewed close to the traditional punk rock template of bar chords, shouted lyrics and speed, but by the time the double album
Double Nickels On The Dime
came out in 1984, their sound had expanded to include tangents of jazz, funk and neck-snapping instrumental prowess. On that masterpiece, D. Boon's Telecaster guitar throws out minimalist but unbelievably complex funk chops, stabs and rhythms, bassist Mike Watt beats and snaps his bass into submission with some of the most complex lines ever laid on tape, and drummer George Hurley keeps it all down with great funkitude when he's not propelling everybody to greater heights of creative frenzy.
In spite of their virtuosic sound, they never sounded long-winded or tired – true to form,
Double Nickels On The Dime
contains a whopping 44 songs, all of them clocking in at under 3 minutes each – and most are significantly shorter than that.
The Minutemen
were overtly leftist politically, but their often strident lyrics denouncing big business, the Reagan era ("Jesus & Tequila), war and imperialism ("Vietnam"), and working dead-end jobs ("This Ain't No Picnic") were tempered with a sense of humor and a sort of punk sentimentalism on songs like "History Lesson Parts 1 & 2", in which singer/guitarist D. Boon explains the story of how "Punk rock changed our lives." It's all set to music of great diversity, creativity, virtuosity and tightly controlled experimentation. The Minutemen, particularly on
Double Nickels On The Dime
sounded like a band that could play anything, and often did.
This band ended tragically in 1986 when Boon was killed in a car accident. Watt and Hurley considered quitting music altogether for a while (I have heard Watt describe Boon as his best friend), but ended up soldiering on as
fIREHOSE
with superfan Ed Crawford (who reportedly showed up on Watt's doorstep unannounced, guitar in hand) and recorded a number of awesome albums under that name for the next 7 or 8 years.
Watt, in particular, has become somewhat of a grandpa/father figure to the whole underground scene in the past 20 years.
Though he's never been showered with filthy lucre, he's released a number of solo albums in addition to his work with
fIREHOSE
, and played/recorded/toured with plenty of indie music luminaries such as avant/jazz guitarist Nels Cline, the reformed mega-band Jane's Addiction, and in J Mascis's (of Dinosaur Jr.) band The Fog a couple years back.
I've had the pleasure of seeing Watt live twice some years back – never have I seen anybody play bass like that. He smacks the snot out of his "thunderstick" (his term for it) seemingly randomly, fingers flailing, arms pumping – but then you listen to what he's actually playing. He's astoundingly precise and musical. He's melodic and complex, but never overplays.
Picture a graying, average-looking guy with facial hair (he sported a long, bushy beard both times I saw him), wearing a flannel and jeans, playing bass like nobody else can. If you were to meet him on the street you might think he wanted some spare change. That's Mike Watt, but don't worry, he won't ask for change -- and doesn't need your money anyway. Long may he live!
Oingo Boingo
The began their career as The Mystic Knights Of Oingo Boingo, in the 1970s, and as the 80s went on they became one of the premier, so-called New Wave bands along with Devo and Talking Heads.
They gained the reputation of a party band, mainly because of their biggest hit, the title track to their 1985 album
Dead Man's Party
. But their eclectic style had a darker side as evidenced by the early
MTV
hit
"Nothing Bad Ever Happens"
, as well as their swan song, 1993's album
Boingo
.
That final album is a writhing mass of tension that includes denunciations of the first Gulf War, an energetic cover of "I Am The Walrus", and the epic 16-minute closer "Changes", a reflection on the ups and downs of life that is a fitting end to an under-appreciated band of the 1980s.
Oingo Boingo's
leader, Danny Elfman, has since the mid-1980s become an accomplished composer of film and television scores, to this day. He has contributed to a number of Tim Burton movies, and composed the theme song to The Simpsons. Didn't you know that?
The Pogues
Shane MacGowan, lead singer of the
Pogues
, has about three teeth in his head, all of them crooked. It's the logical end-result of decades of alcohol abuse and bar brawls. Which is fitting, because that's what the Pogues music sounds like. This "Irish" band (MacGowan was Irish but the band was based in London) became known for its perfect melding of traditional Irish bar music and punk rock, all vomited forth with plenty of working-class attitude. Their 1985 album
Rum, Sodomy And The Lash
drips with attitude, beer and knuckles. The song "Dirty Old Town" pretty much encapsulates their appeal: "I kissed my love / by the factory wall / dirty old town /dirty old town". Music to kiss your girl or start a fight to, take your pick.
The Replacements
This band was a preeminent American underground rock band of the 1980s. Singer/guitarist/songwriter Paul Westerberg wrote some of the most memorable and unapologetic rock songs of the era. They never became more than a mid-level band but are remembered to this day for their spirited songs and notoriously drunken performances – their unprofessionalism was probably a big reason they never broke really big.
But then, they never took themselves too seriously anyway, near as I can tell. They changed their name to
Replacements
from the
Impediments
after being banned from a club for disorderly behavior in their hometown of Mineapolis. The band's early sound was brash punk rock, but later on they became just a damn good rock n' roll band without apologies. Their defining work is their third album
Let It Be
, a record whose sound is nothing like the
Beatles
album of the same name. It's a howling blast of pure rock n' roll adrenaline with enough diversity to keep it from being monotonous.
They really didn't care – I remember that one of their videos consisted entirely of a single shot: a guy putting a record on the turntable, then kicking back and smoking a cigarette as the camera focused on the twitching speaker. Such attitude admirably forced the viewer to focus on the music rather than the visuals. But their reputation as drunken curmudgeons doomed them – they were never able to shake their image as unreliable hooligans. Bythe time they cleaned up their act in the late 1980s it was too late – their chance had passed and the band broke up. Westerberg has put out sporadic solo albums every few years since.
REM
Oh yeah, and speaking of preeminent American underground rock bands – except
REM
went from the underground to being superstars in a few short years at the end of the 1980s. Their last six or seven albums haven't been very good; the album
Monster
from 1994 was their last decent record I think. However their 1980s work (basically, their first five or six albums) still sounds as good today as it did then, and they deserve a mention on my list.
REM
is too well known now for me to spend much time remarking on them here, but I will mention a few things. Michael Stipe's obtuse and poetic lyrics always appealed to me, and Peter Buck's guitar sound launched a thousand jangle-pop ships. I think their best album is their fifth,
Document
, even if "The One I Love" and "The End Of The World As We Know It" are way, way, way overplayed on classic rock radio these days. But
Life's Rich Pageant
is a melodic, fuzzed out masterpiece too, and their least popular album,
Fables Of The Reconstruction
, contains some of the band's most creative work.
I'm sorry to report that this band became too big for its britches in the 1990s. I saw them live in 1995 and was disappointed – they were lifeless on stage, played the songs at flaccid tempos, and bassist Mike Mills wore a ridiculous suit of mirrored sequins. The no-frills passion of their early days was long gone by then. None of this prevented Stipe from preening and constantly mumbling witless banter into the microphone, that day at Fiddler's Green amphitheater in Denver. A travesty!
I pretty much wrote them off as a disappointment after that, but in their 1980s heyday,
REM
was a fantastic band with an arty mystique. What a shame.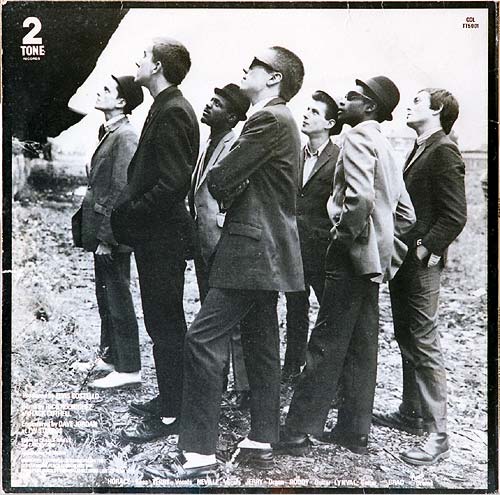 The Specials
Another British ska band of the early 1980s, their eponymous first album actually came out in 1979, but hey… close enough. With a slightly more traditional ska sound and more biting lyrics than fellow scenesters, Madness, the
Specials'
first album is a classic from beginning to end. Their most famous song is a cover, the ska standard "A Message To You Rudy", which takes the form of a sobering lecture to Rudy (this the short form of the slang term "rude boy" – which in Jamaican street terms means gangster): "Stop ya messin' around / better think of your future / time you straighten right out / or you'll wind up in jail".
Their originals were just as good, and it's hard to pick a favorite, though "Stupid Marriage" (with the immortal line "naked woman / naked man / where did you get that nice suntan?") and "Nite Klub" (a disdainful view of night club life) both rank highly.
I admit:
The Specials/
is the only album that I'm really familiar with, but it's so good! The Specials are also notable for being one of the few racially integrated second-wave ska bands, with both black and white members. Though ska was originally a Jamaican style, most second-wave ska bands were white as a generation of working-class British youths adopted the sound as their own. The Specials appropriated the Two-Tone graphic pattern of a black and white checkerboard on their albums to reflect their belief in racial integration.
Once again, I must stop for now... if anybody else is a fan of any of these bands, or even if you absolutely can't stand them, I would love to hear about your opinion. I live for this stuff. So many bands, so little time and space...